This morning i was able to finally get my first card made. It took me a good couple of hours, with the colouring in of the image but i really enjoyed it. I am quite pleased with the result, but i still have so far to go. As i mentioned a couple of posts down i originally wanted to make this card for my brother's birthday, but my promarkers took too long to arrive so i've made it anyway.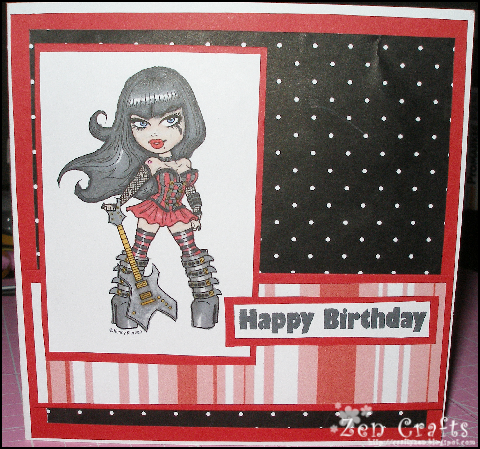 The image by
Kenny K
. As soon as i saw it i knew it was perfect for my brother. He loves guitars and sexy girls, so two of his favourite things in one lol. I think she is lovely too, and whill colour her in purple and black and pink and black sometime in the future. She was coloured in promarkers as follows:
Clothes: Poppy, crimson, ruby, cool grey 5 and black
Guitar: Gold, cool grey 5, ice grey 5, ice grey 4
Hair: Black, cool grey 5, ice grey 4
Skin: Blush, almond, sunkissed pink
The papers are free papers that i downloaded from
Jak Heath's blog
. She has them in all different colours.
The red card is cardstock and the sentiment was from a stamp set i got from
creat and craft
.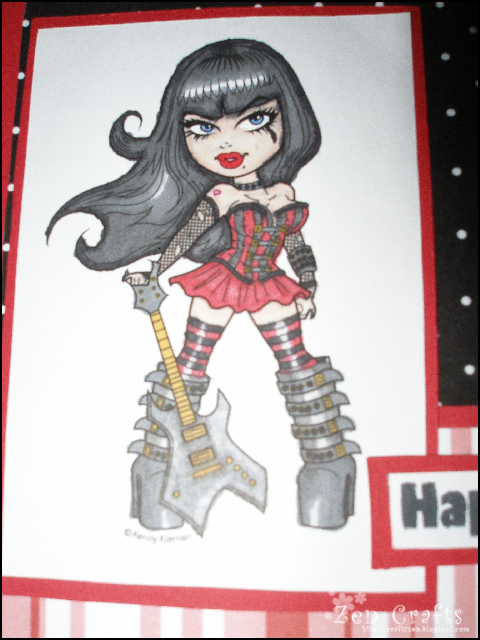 A close up of the colouring. Can anyone give me tips on how to stop the colours bleeding outside the line? It got quite messy with that happening. I used super smooth printer paper, i don't know if that's why? Anyway, i think i have done an ok job for a first attempt. The black in the hair could do with being blended a bit more too, so i will work on that next time.
I wish to enter this card into the following two challenges:
Magical Monday: Gothic Angelz
Totally paperccrafts: Happy birthday
Thank you for looking :)